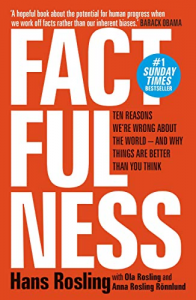 The key lessons learned from
"Factfulness: Ten Reasons We're Wrong About The World – And Why Things Are Better Than You Think" by Hans Rosling, Ola Rosling and Anna Rosling Rönnlund
Mega misconceptions prevent us from seeing the world accurately (e.g. poverty actually nearly halved, or our assumptions of the "East" or "the developing world")
Negativity instinct drives this even more, humans mainly focus on the bad (but instead extrem poverty dropped from 89% in the 18th century to 9% in 2019). The reason is mainly due to the media and the focus on negativity and bad news.
We misplace our fear and therefor overestimate effects. We think that numbers always increase in a linear way, but that is often not the case (but instead e.g. the population growth will level out at a certain point, see video at the bottom).
Humans overgeneralize and therefor only one outcome seems certain (e.g. when looking at the number of babies who die, it is not 0 but it was drastically reduced in the last 20 years) – Income level is a good way to see how far developed a country really is (rather than culture, religion) and enable a more accurate world view.
Humans need more perspective and should not focus on groups/individuals. Therefor the best way is to travel the world yourself and learn more about different cultures and people. Even in poorer countries there are people trying to improve the situation with smaller businesses. (e.g. South Korea changed enormously in the last decades and even under dictatorship).
The urgency instinct let us come to conclusions without actually knowing all the facts (e.g. refugee crisis). Today a lot of topics are really complex and knowing the numbers, facts and details is key.
Sum up: Factfulness is key, and if we look at the data the world actually developed in a very positive direction. Solution: Teach this also your children, they are the future and need to have a positive mindset in regards to improve the world even further. Climate change will still be a big subject in the near future.
–
For more details I can recommend to read the whole book:
*Affiliate-Link to support the author of this website
There is even a really great video by Hans Rosling on the population growth and the hypothesis that it won't exceed 11 billion: