The future of work is changing faster than ever, and the ones who won't adapt might be left behind (e.g. through AI)
There are certain things you can do to prepare for the future work environment:

You need to focus on your personal brand

Personal brand = how you appear to others, your style of doing things etc.
In the future this will become more and more important in future careers
Consumer brand and personal brand will be similar (e.g. can he be trusted? what value can sb. bring? what makes him different? does he have a positive influence?)
Everybody needs to understand your personal brand easily and effectively – authenticity is key (e.g. clear communication of your purpose, career, goals or niche)

Become a master of communication

Learn from TV reporters – analyze a certain situation and convert it to understandable bits of information (as situations change faster than ever)
-> Begin with a headline, three strong facts based in data as the main body (problem 1, problem 2 …), close out with a clear purpose of your information (e.g. necessary action)

Be ready for fast adaptability

Currently technology adapts faster than humans
Solution: Stay engaged with changes in technology and different perspectives, Identify opportunities of change (positive mindest) or Let go of anything that holds you back

Use your creativity

as it is the main differentiation to machines
Doing unfamiliar things (step out of your comfort zone)
Visualize your goals
Emotional regulation (calm your mind e.g. through meditation in order to embrace real creativity)

Collaborate for best problem solving skills

Enhance diversity (e.g. in a team through gender, background, strengths, viewpoints) in order to get various ideas on how to solve certain problems
Create an environment where everybody can speak openly about ideas (without embarrassment)

Networking with peers

In the future: Reach out more to your old friends, instead of trying to connect with strangers (already certain established connection, different careers and perspectives)
In the future environment friendship will be more important than ever

Embrace new kinds of leadership

The teacher: share knowledge, give feedback, encourage a positive mindset, build trust
The learner: leaders need to learn and adapt themselves, even faster than their staff
The mobilizer: oversee complex processes, work with remote teams, trigger action of individuals and teams
The giver: help others to succeed, selfless, generosity

Continuous learning

Set clear learning objectives (e.g. stock market)
Combine old and new theories (e.g. read about fundamental books regarding a certain field, but also look into current articles)
Listen or talk to experts in a certain field
Commit to regular learning (e.g. listen to audiobooks)
Sum up: The work environment will change faster than ever (e.g. through technology, remote work opportunities), but there are certain aspects which can help you to stay ahead.
My thoughts: In order to compete with AI we will not have a change in regards of repetitive jobs. Furthermore the core aspects that make us human will be more in demand than ever. This includes our creativity as we already see in different youtube streams or coaching offers. Additionally personal brands will have an even bigger impact as it is already visible for example with Elon Musk (who founded Tesla and SpaceX). If there would not have been his self marketing and his visions (e.g. about going to Mars), his companies for sure would not have survived.
Overview: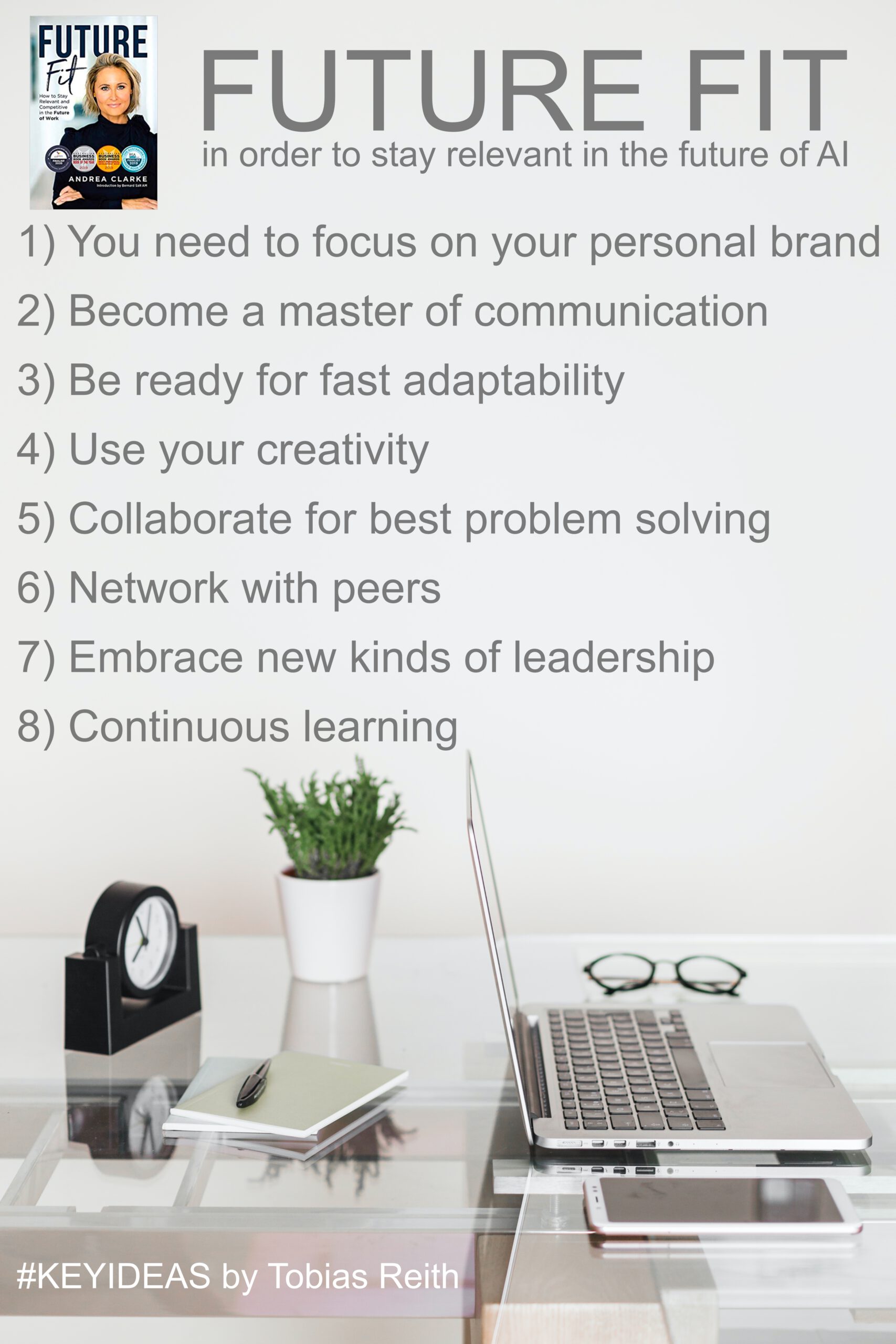 –
Link to the whole book on Amazon
For #KEYIDEAS from other books visit my blog overview.
Picture credits: Designed by Freepik