Satya Nadella: His leadship is based on personal experiences (cricket)
Nadella grew up in India in 1967, main interest was cricket and his dream has been to become a professional in cricket, parents wanted him to focus on Karl Marx
With the age of 18 he got his hands on a personal computer and decided to study electrical engineering in India & graduated in 1988
Finally replaced his dream to become a cricket star with a career in technology
After college he had the chance to do his master's degree in Wisconsin in 1988, USA. At that time this was nearly impossible for Indians.
The Microsoft journey started in 1990. Nadella's first task was a sales position for the Windows NT operating system.

Nevertheless he also wanted to continue studying at a Business School. Next to his regular job he secretly enrolled in a MBA program in Chicago and studied 2 years part-time. This was his foundation in leadership and his first manager position for a video on demand (VOD) service at Microsoft.

2011: Nadella took the lead in Microsoft's cloud technology (Microsoft Servers & Tools STB) with the goal to overtake amazon as the leader in this field

Solution: Create a hybrid cloud option – with a private on-premise server and a publicly accessible cloud.
Basis for success: Enhance the trust level and group cohesiveness of his team (leaders) by actively sitting down 1on1 and talking about concerns and issues -> result: open communication and a cloud technology worth 20 billion dollars

Nadella's leadership is based on 3 principles he learned from cricket:

Compete when intimidated – learn the strengths and weaknesses from the best / your opponents
Be a team player – raw talent has no meaning, if you can't perform in a team
Know your team mates and use their strengths

His son made him a more empathetic leader due to an illness his son struggled. He even appreciated technology even more as he learned that the machines in the hospital taking care of his son were running on Microsoft cloud applications. He realized lives depend on Microsoft solutions.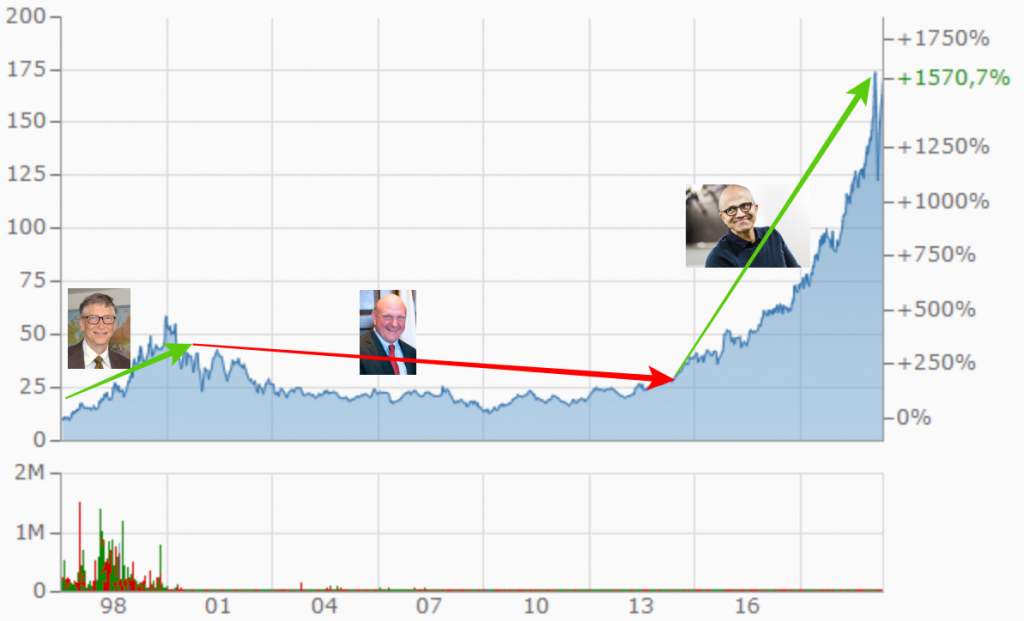 Microsoft's 3rd CEO in 2014: Rediscovering the soul of Microsoft due to the sales decrease in PCs and the rise in smartphones.

Juli 2016: Nadella sent out a manifesto for Microsoft's future to every employee in order the recreate a new unity
-> "We must all understand what Microsoft can contribute to the world and how Microsoft can still change things in the future for the better by tackling new needs"
Big effective step: He organized customer visits (students, managers or teachers) in order to better understand those needs

Nadella's key belief: Keep your friends close and your enemies even closer (in his case Apple -> watch the video at the bottom), build trust with your opponents and focus on common improvement

The future of work: Companies need to create new skilled jobs when automating other jobs (it is corporate responsibility)
Sum up: Nadella's leadership is based on his cricket experiences and the trust level with employees and opponents.
My thoughts: It is impressive how one person has implemented a new core mission for the future of a whole company. I think this shows how important a certain vision and goals are for employees on every corporate level.
–
For more details I can recommend to read the whole book:
Link to the Book on Amazon (Affiliate)
Microsoft CEO Nadella and the iPhone Pro:
For #KEYIDEAS from other books visit my blog overview.