How to plan Backpacking
in New Zealand

---
My reason for backpacking in New Zealand:
During the last year in highschool my friend Stephan and I didn't really know what to study after graduation and which job we would like to do for the rest of our life. Soon it was clear to use that a gap year abroad would get us the most added value and we hopefully know our discipline of study afterwards. The question of which country to choose for the voyage quickly fell on New Zealand due to the travel reports we read on the internet and good friends (Laura and Matthias) who hardly recommended the country with its natural beauty, warm-hearted people and freedom to stay wherever you want.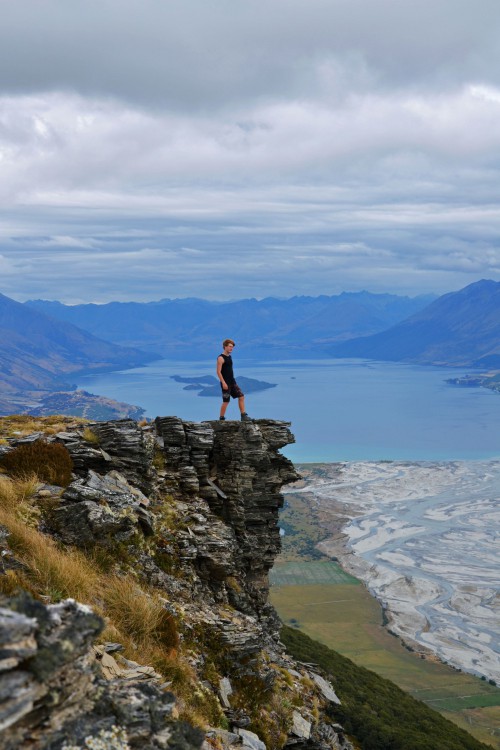 How to start:
The most important thing to consider: DO NOT book a Travel Organisation. We are so glad that we got this information from Laura and Matthias because it is literally a scam. You pay about 2000€ to get the flight, a hostel the first night and some help with the bank account, work visa and some general information about the country. You can organize these things on your own without much effort and safe about 1000€ ... however you still need to spend about 1000€ for the flight. Here are a few things you should do a few month before you want to start your journey:
Book your flight about 4-5 months in advance. According to research this is the time when you can get the cheapest tickets. Nowadays it is really easy to compare the prices for the flights online.
Get a Visitor Visa.
Get a credit card. This is basically a must-have, because you need it for so many things like the flight, ferry, activities etc. Nevertheless we opened a bank account (ASB Bank) in New Zealand, so we never had any transfer costs.
Get some information where you want to go. You don't need to know exactly each place, but i would really recommend to get an overview of the best destinations and some general information about the country, people, food. We bought two different travel guides and I can highly recommend both of them. In the next chapter I put a link to the guides.
Plan on how you want to get from A to B in New Zealand. We bought a van in Auckland and slept in the back during our journey. However there are some risk you need to consider: break down, free camping is forbidden in most areas today, car scams especially in Auckland. Good alternatives: buses (real cheap), hitchhiking, renting.

Tips and equipment for Backpacking New Zealand

---
The following things were really important to us and I like to share them to help you enjoy New Zealand to the fullest. Try to borrow some things from your family or friends, because it adds up otherwise. Just do not buy the cheapest products, because you have to live with them for several months and it is easier and cheaper to buy your equipment at home than in New Zealand.
Get a really good backpack, it's worth it. If you live out of your suitcase for several months, you need durable equipment. My friend Stephan got a Deuter ACT Lite 50+10 Hiking Backpack, while I could borrow an even bigger one from my friend. After New Zealand I bought a cheap one for about 60€ and you get so mad about so many things after just a few trips (zippers broke, seams torn).
Bring some good books for bad weather. Sure you can buy those in New Zealand, but in nearly every hostel is a swap-system (bring a book, get another one). If you need some inspiration go to my Books-List; I read Atlas Shrugged in New Zealand and it is now my favourite book of all time.
Visit the libraries for free WIFI and computers. A lot of libraries even have a separate room for all the backpackers who are using their electronic devices to connect with family and friends or get more information on the area.
Do not forget to purchase a guide book. We bought two different travel guides and I can hardly recommend both of them:
(Affiliate-Links, Link to the Englisch version of the Lonely Planet):


"Lord of the Rings" Fans should get the Lord of the Rings Location Guidebook, we luckily found this book in a hostel and we could actually visit a lot of places shown in the movie, I loved it. Maybe you can find it somewhere cheap:

Bring your best camera. I had the pleasure to use a reflex camera, because Stephan has bought a Nikon D3100. All pictures on this site have been made with this camera and we could even create a high-quality photo book and posters. I recently got a Canon EOS 1200D and as a non-professional photographer you do not really see any differences. Just make sure you get a big memory card (e.g. SanDisk 64G), we even bought a hard drive in New Zealand.
If you plan on buying a vehicle get one of those USB Car Charger. Really, really important because you can not charge your devices at normal campsites. Investing in Bluetooth Speakers is also going to pay off, because most of the old vehicles have none or really aweful sound systems and you can even bring those to the beach.
For general charging: Travel Adapter. Check out which travel adapter is necessary for you.
Our experience in
New Zealand

---

North Island: When we arrived in Auckland it was really easy to find a hostel for the first nights. Buying a car or van on the other hand was harder than we thought. Most of the vehicles at the "Ellerslie Car Fair" (one of the biggest car markets) looked really bad and overpriced. Anyway we were lucky (or maybe not, because the van broke down at the end) and got the chance to buy a van from a local hostel owner.
At first we headed north to the Bay of Islands, which was a good decision due to the beaches and scenery. Just do not spend too much time there, because the Coromandel Peninsula is way more beautiful. We made it to the most northern point of Coromandel driving on dirt roads and directly next to the sea until we reached the last campsite. This is basically the place where most of the locals living in Auckland enjoy their holidays. The even more touristic place is on the east coast of the Coromandel Peninsula. After driving the scenic 309 Road which crosses the backbone of the Peninsula you should not miss the world famous Hot Water Beach and the Cathedral Cove (a landmark of New Zealand).
Before we got to the Tangariro National Park in the middle of the North Island we spent about 2 weeks in Taupo, because it was possible to camp directly at the lake and we met a lot of nice people there. The Tangariro National Park was probably one of the best adventures we had. We already knew that the Tangariro Alpine Crossing is called the best one-day hike of New Zealand, but we also did the "Round the Mountain Track" in 3 days and both hikes were absolutly amazing.
Our last stop before we took the ferry to the South Island was the capital of New Zealand. Besides of Auckland being the biggest city Wellington is the capital and was way more pleasant. The atmosphere of this laid back city got us the idea that we could try learning an instrument; so Stephan bought a trumpet and I purchased a guitar. After 1 month on the North Island we decided to continue on the South Island, which should be even more beautiful, fascinating and adventurous than the North Island.
South Island: We spent the most of our time in the north of the South Island. The area around Nelson, Takaka and the Farewell Split is just gorgeous and there are so many things to do. You have the combination of the best beaches in New Zealand, the Abel Tasman National Park, laid back towns and great people. The best beaches are the Wharariki Beach on the west side of the Farewell Split and the beaches in the National Park. If you are into hiking (and I hope you are when you plan on travelling to New Zealand), visit St. Arnaud and Mt. Owen on the way to the west side of the island. We slept on top of Mt. Owen in our sleeping bags to see the sunset and sunrise; it was certainly the coldest night in our life yet. St. Arnaud offers a variety of hikes with beautiful scenery and pure nature. If you have the chance, hike to the Blue Lake to see the clearest water on earth.
Chances are high that the weather is bad on the west coast. Nonetheless exploring this part of the Island is a must-do. One of the reasons is the Franz Josef Glacier, which certainly won't be visible in a few decades due to global warming. Don't miss out on collecting some mussels at the Gillespies Beach and cook them on a fire at the beach while watching the sunset.
The area around Wanaka, Queenstown and Milford Sound is also highly recommended, especially for hiking. Mount Alfred near Glenorchy and the Gertrude Sattle Hiking Trail near the Milford Sound are probably the best hikes we have done in the southern part of the island. The Cinema Paradiso is an insider tip for bad weather - try their homemade hot cookies during the break. If you plan on going to Milford Sound I recommend taking a boat cruise in the fjord, it's worth it.
In the very south of the island are not many special things to see, especially after the fascinating places you just came from. Stuart Island, the little island south of Invercargill, should be a really nice place with untouched nature and a lot of birds; it was not in our budget to go there. The Southern Scenic Route takes in some stunning scenery with landscape known from Ireland. Maybe it is not a coincidence that the next big town Dunedin is known for it's Irish flair due to a lot of migrants from Ireland who arrived in the 1970s.
Our van broke down on the way north to Christchurch. The cost for repairing the car would have been about half the buying price and we didn't even know if we could sell it in the next weeks, so we gave it to a used car dealer for 100$. Luckily we found a hostel in Oamaru where we could work and think about future plans for the last weeks of our journey.
We decided to try WWOOFing (Willing Workers on Organic Farms). It is a really popular method to get in contact with locals while still visiting new places and saving money. In the end we spent about two weeks in Akaroa, the peninsula outside of Christchurch, at the "Christ College of Trans-Himalayan Wisdom" meditating three times a day and helping in the garden. It certainly was an interesting experience, but neither Stephen nor I attained enlightenment yet. A hostel in Christchurch was the accommodation for the last two weeks in New Zealand where we could still see the consequences of the earthquake in 2011. Even aftershocks happened at the time we have been there. After seven month Backpacking in New Zealand we were glad to see our family and friends again, nevertheless it was an experience Stephan and I would not want to miss and it influenced us in many ways, we met a lot of great people, got to try a variety of food and saw the most beautiful places on earth.